| |                           2017 BMW 330i |                   2017 Audi A4 |
| --- | --- | --- |
| MSRP (Comparably Equipped)* | $38,750* | $34,900 |
| Horsepower @ RPM | 248 @ 5200 | 190 @ 4200 |
| Automatic High Beams | Y | Available |
| Roadside Assistance | Y | Y |
| Dynamic Cruise Control | Optional | X |
| Driveline | RWD | FWD |
| Heads-up Display | Optional | X |
| Active Blind Spot Detect | Optional | Optional |
| Est. MPG | 23 city / 35 highway | 25 city / 33 highway |
| Trunk Volume cubic feet | 13 | 13 |
The BMW 3 Series is a legend in the automotive community - and for good reason. For over 40 years, it's defined what it means to be a sports sedan, and been the bar to which all other competitors are judged. Powered by a 248-horsepower TwinPower engine that makes 258 lb-ft of torque at just 1450 rpm, the 2017 330i provides all the power you need to rocket from 0-60 in just 5.5 seconds. Of course, the 330i is still fuel efficient, and delivers an EPA-estimated 33** mpg on the highway.

The Audi's FWD system is no match for the BMW's spirited RWD performance, and systems like the 330i's Xenon Adaptive Headlights and Active Blind Spot Detection - along with a beautifully balanced chassis - ensure drivers will stay safe. The available Full Speech Recognition also means you'll be in command of your entertainment and navigation input while safely keeping your eyes on the road. But on the Audi A4? It's not even available.

With the BMW 330i, you get all the refinements drivers expect in a precision German automobile. Features like the available Comfort Access conveniently allows key fob holders to open the trunk just by placing their foot under it.

So drive the legendary standard of excellence. Choose the 2017 BMW 330i.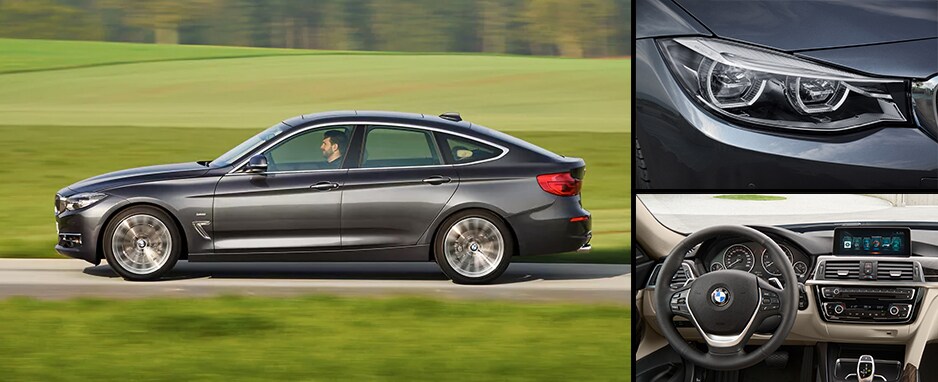 Regenerative Braking
To supply a battery with electrical energy, the alternator is driven using engine power, which requires fuel. With the 2017 BMW 330i's Brake Energy Regeneration system, the alternator produces electricity when the driver brakes or takes a foot off the accelerator. That means kinetic energy which was previously unharnessed is transformed into electrical energy and fed into the battery, so electricity is generated without consuming fuel.
Auto Start-Stop
Red lights, traffic jams, train crossings, these are just a few everyday driving situations where the engine is idling - and unnecessarily burning fuel. The 2017 BMW 330i's Auto Start-Stop function automatically switches off the engine when the vehicle is stationary and the driver engages the brake. This only happens when energy is not needed for anything else - such as for the air-conditioning system and rear window defroster - and as soon as the driver's foot leaves the brake pedal, the engine starts up again. It's a seamless and comfortable way to save fuel and protect the environment.
Eco Pro Mode
ECO PRO Mode teaches interested drivers to become fuel-efficient experts. And depending on an individual's driving style, it can result in up to a 20% fuel savings. To motivate the driver, the additional miles achieved are displayed as a bonus range by the on-board computer.
The 2017 BMW 330i's ECO PRO Mode uses engine management software to adjust the engine's output characteristics, for example, the automatic transmission upshifts sooner and remains in a higher gear longer. And for the first time, ECO PRO also includes a "coasting mode." On cars equipped with automatic transmissions,when the driver backs off the accelerator at speeds between 30 and 100 mph the powertrain is decoupled, which eliminates engine braking to improve fuel efficiency.
* MSRP excludes destination, taxes, title and registration fees. Starting at price refers to the base model, optional equipment not included. A more expensive model may be shown. Pricing and offers may change at any time without notification. To get full pricing details, see your dealer.
** EPA estimated mpg. Actual mileage may vary.